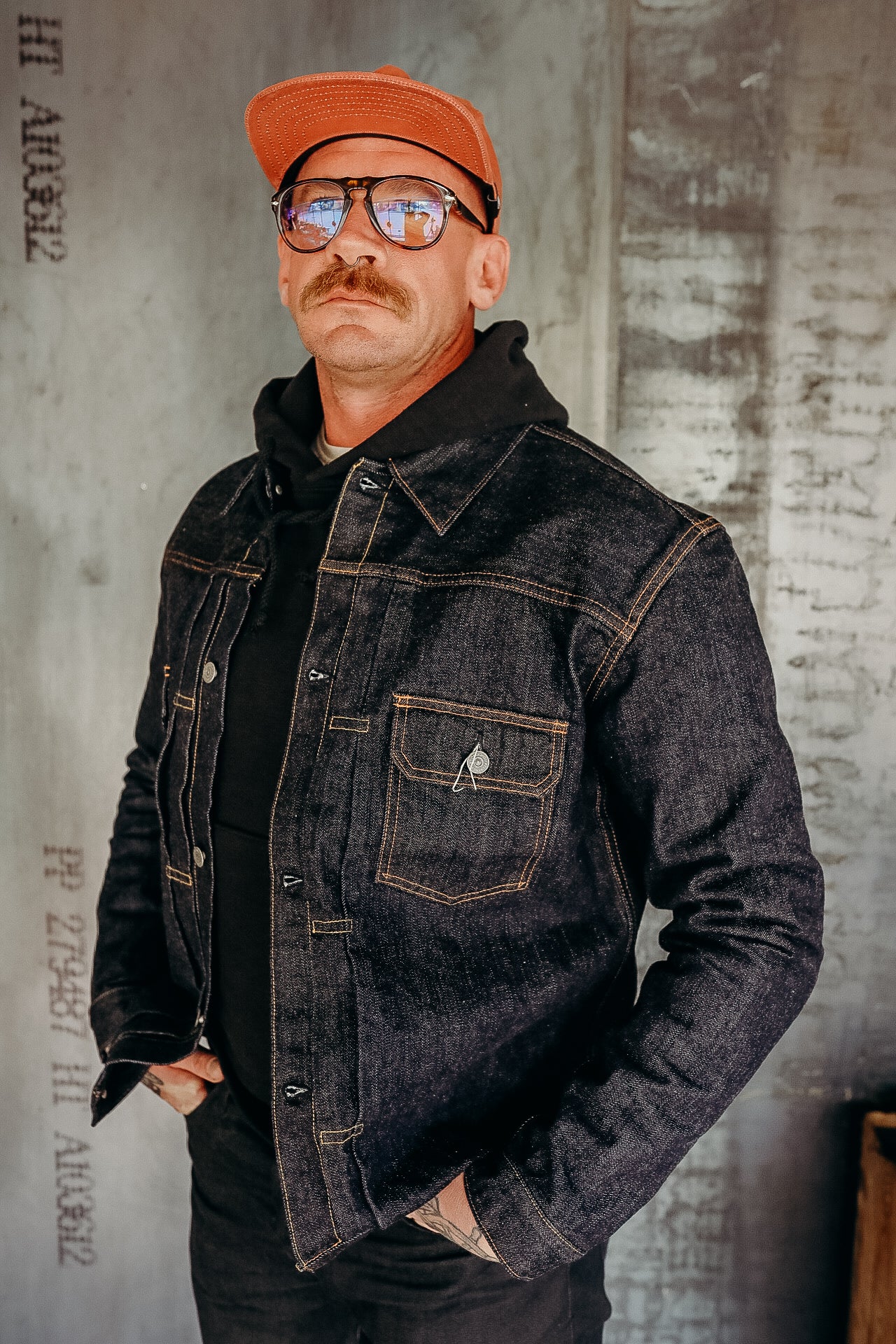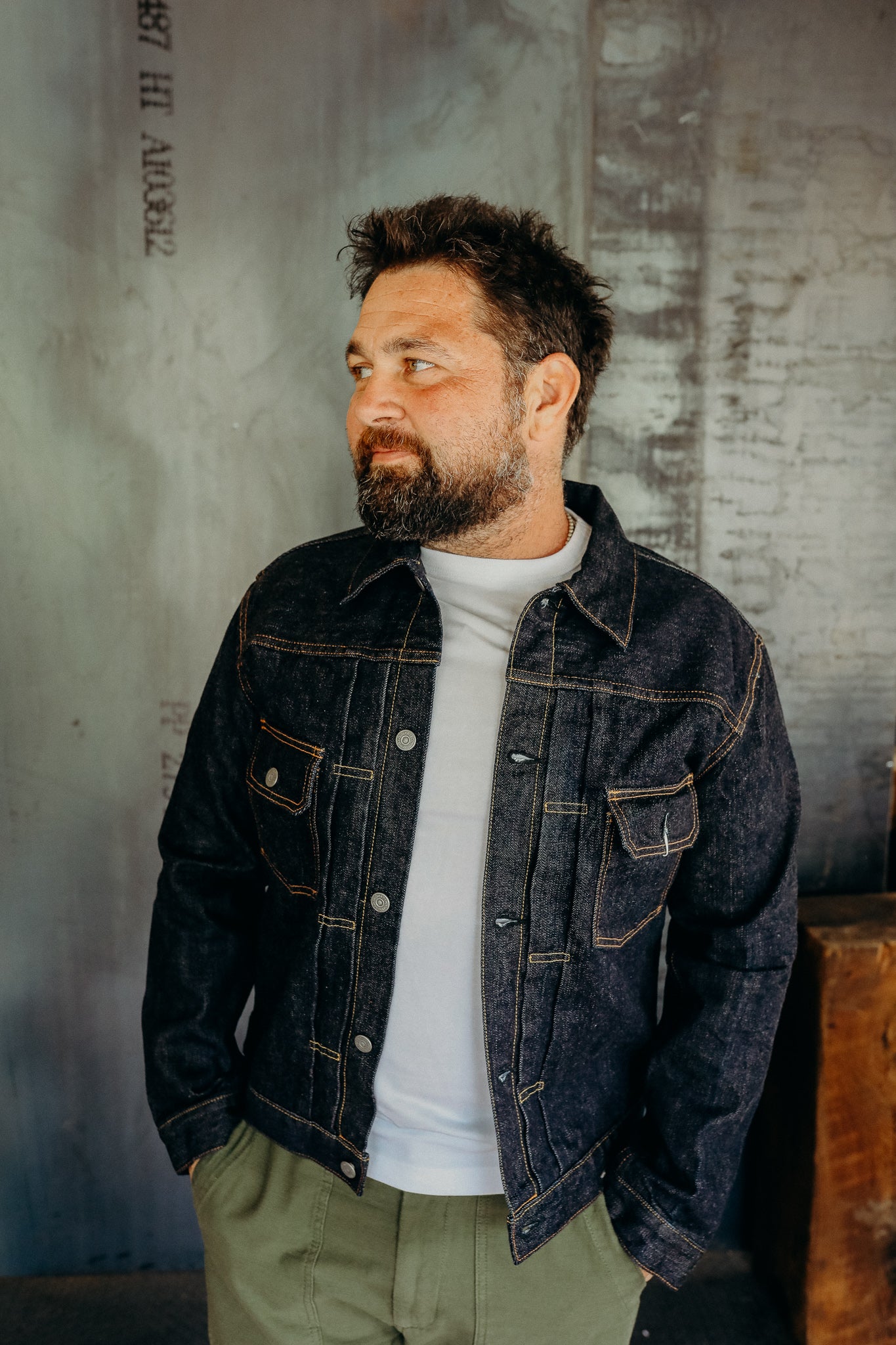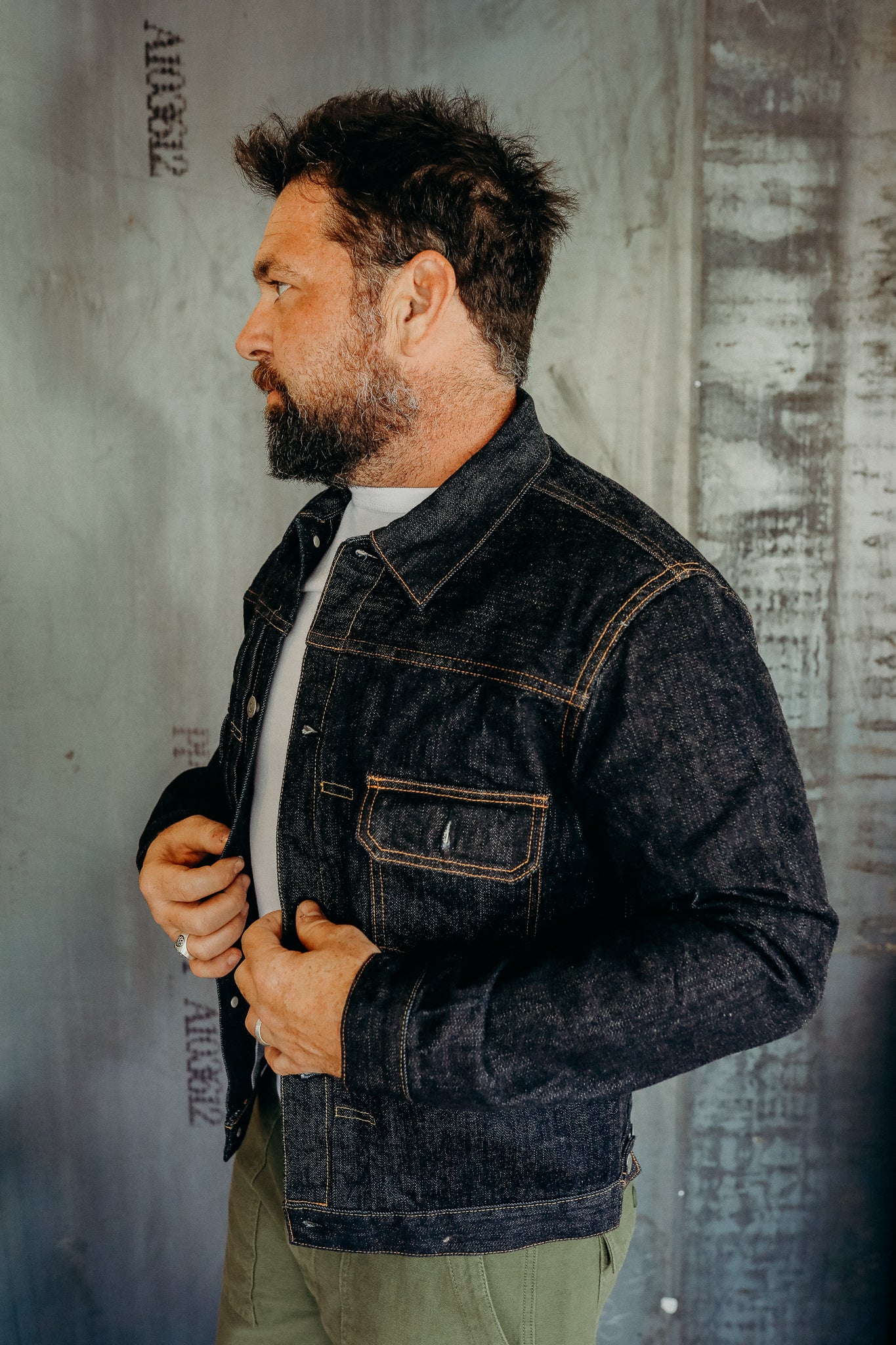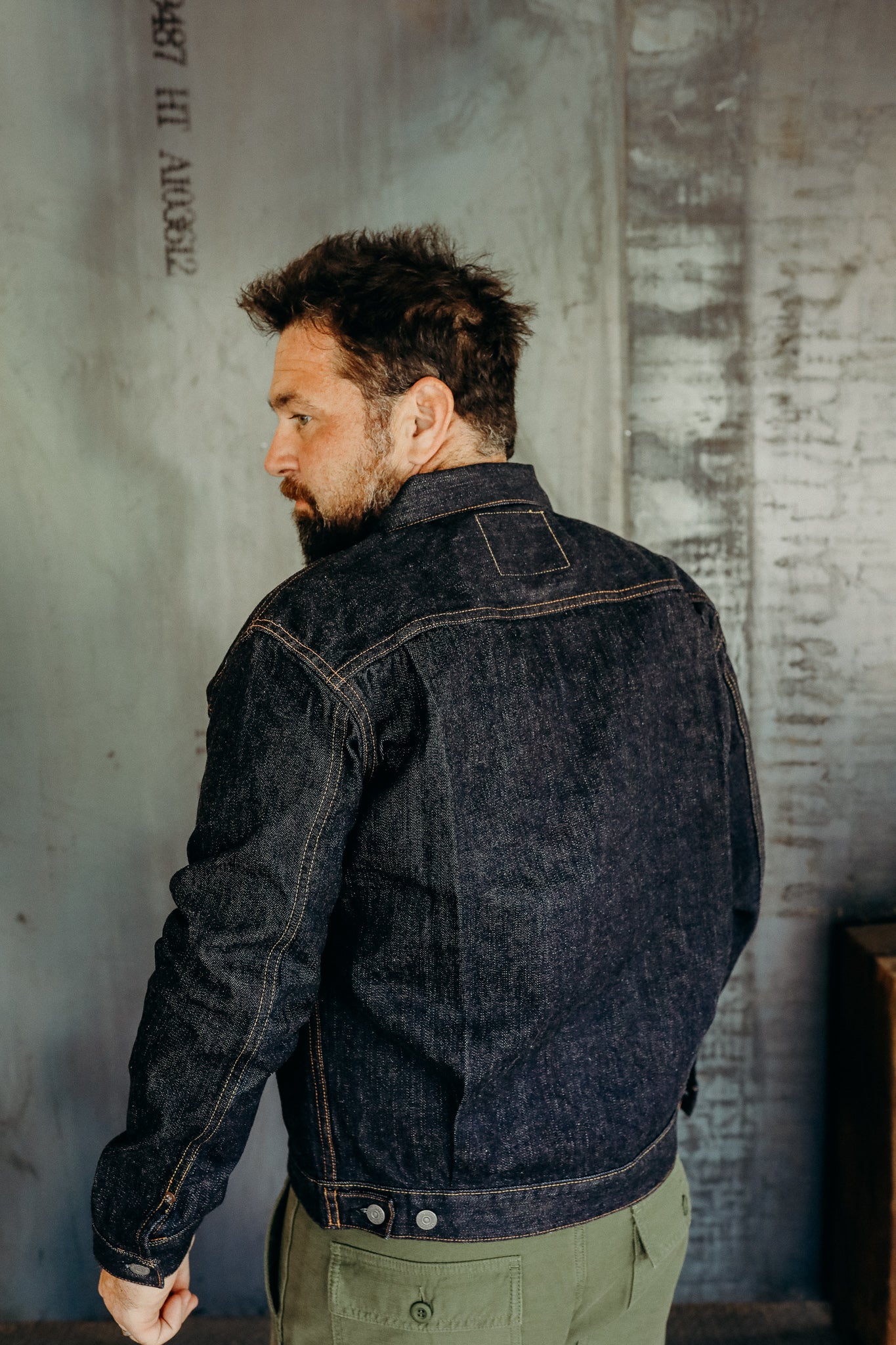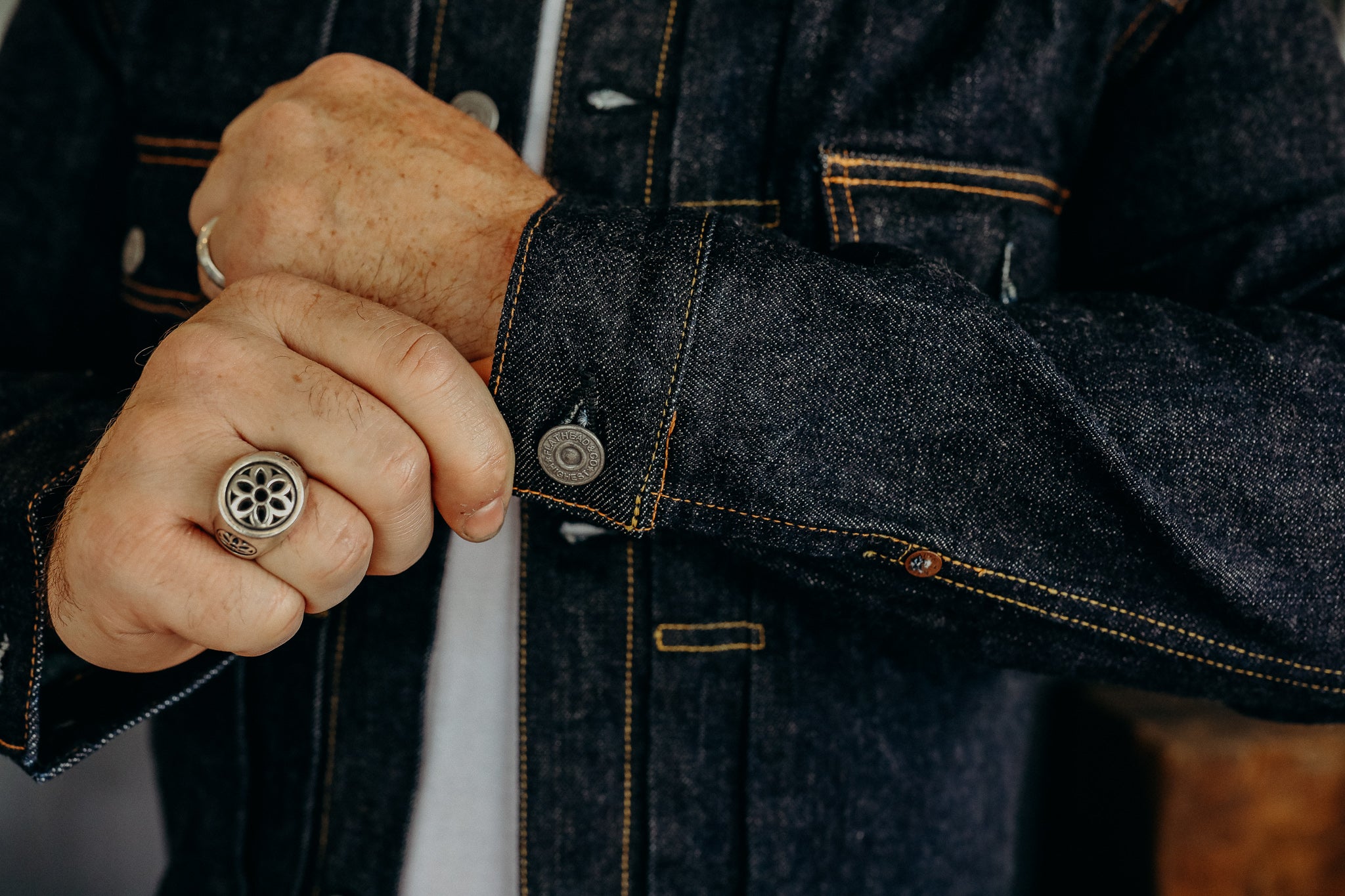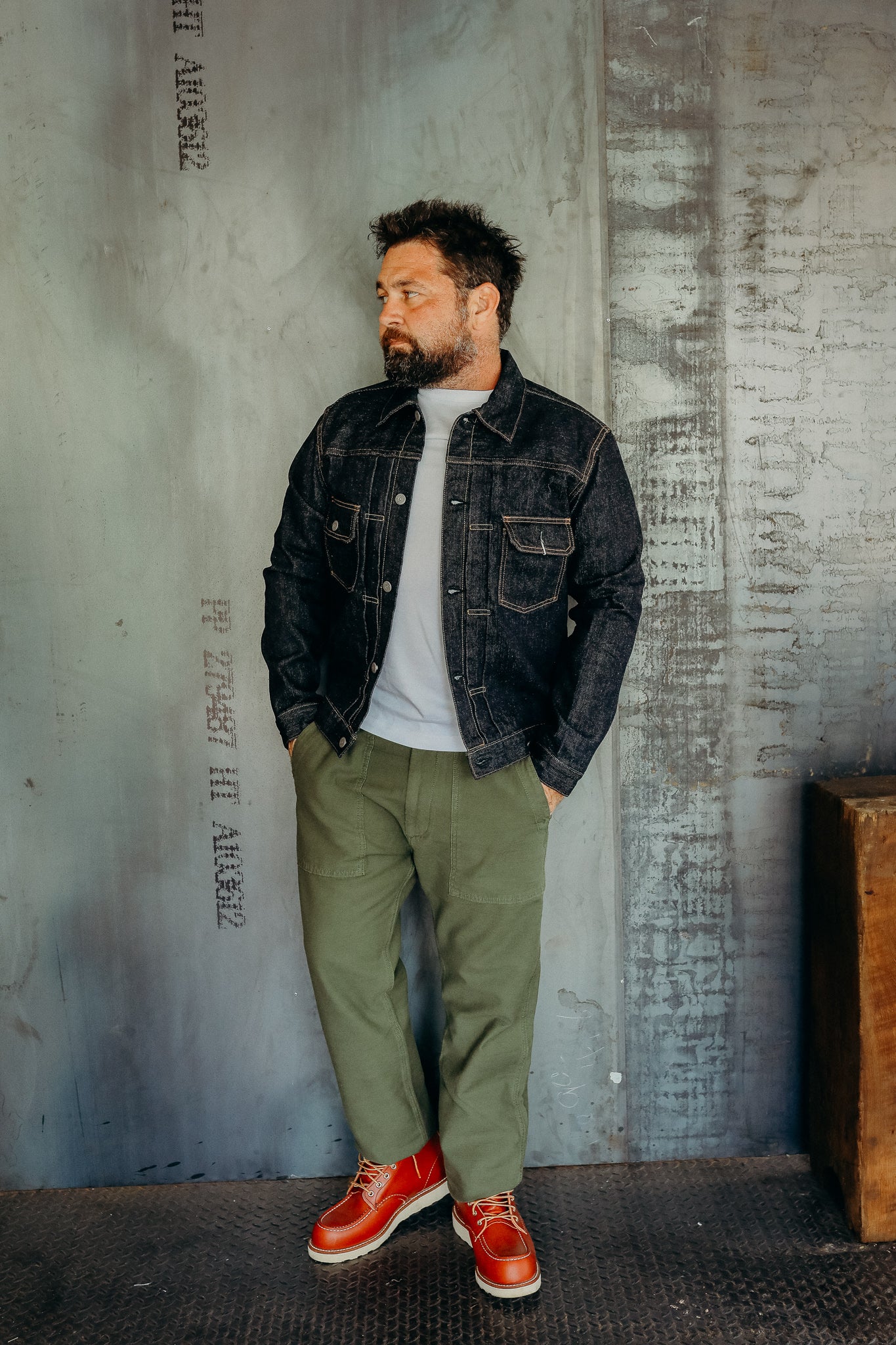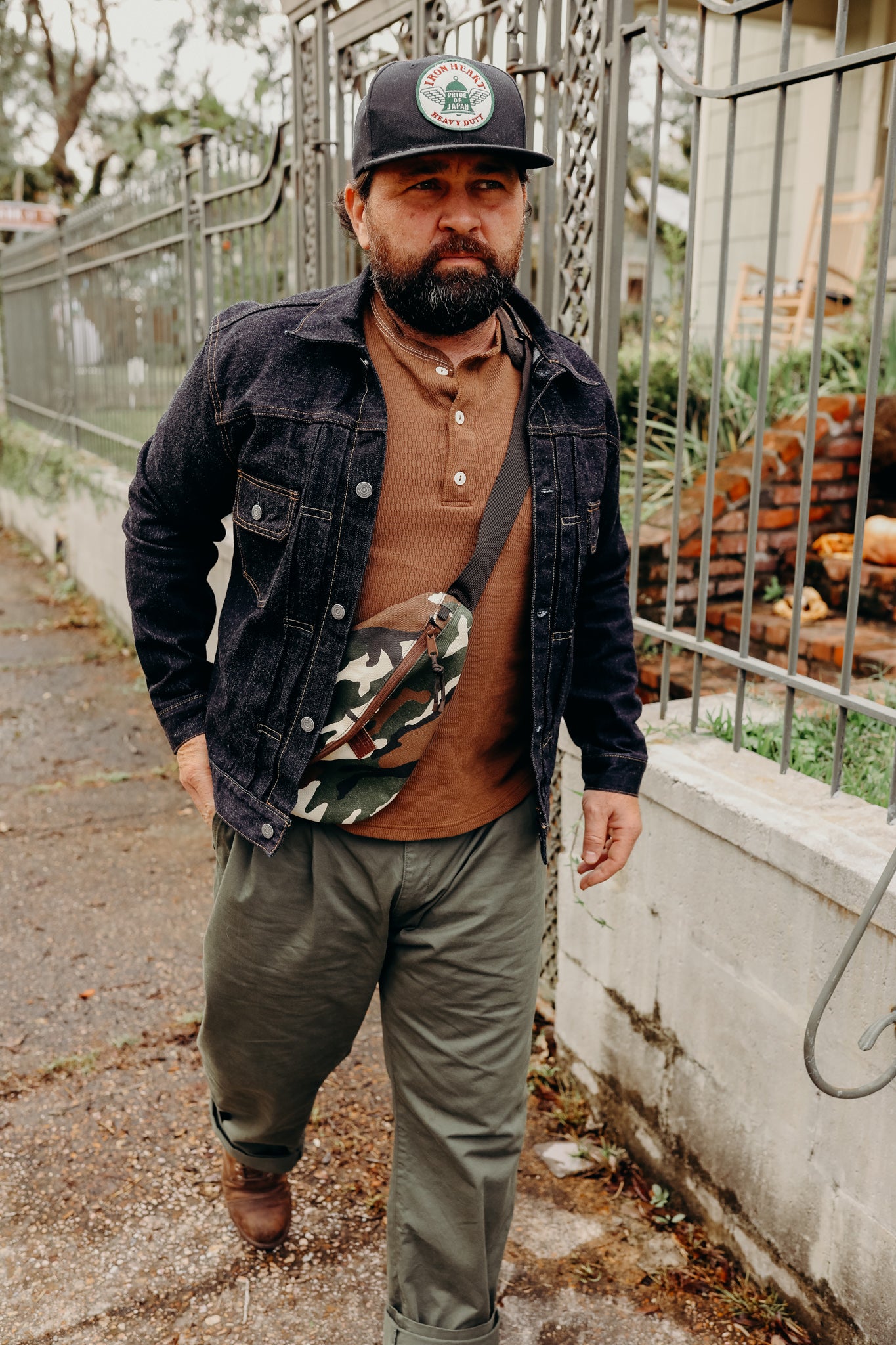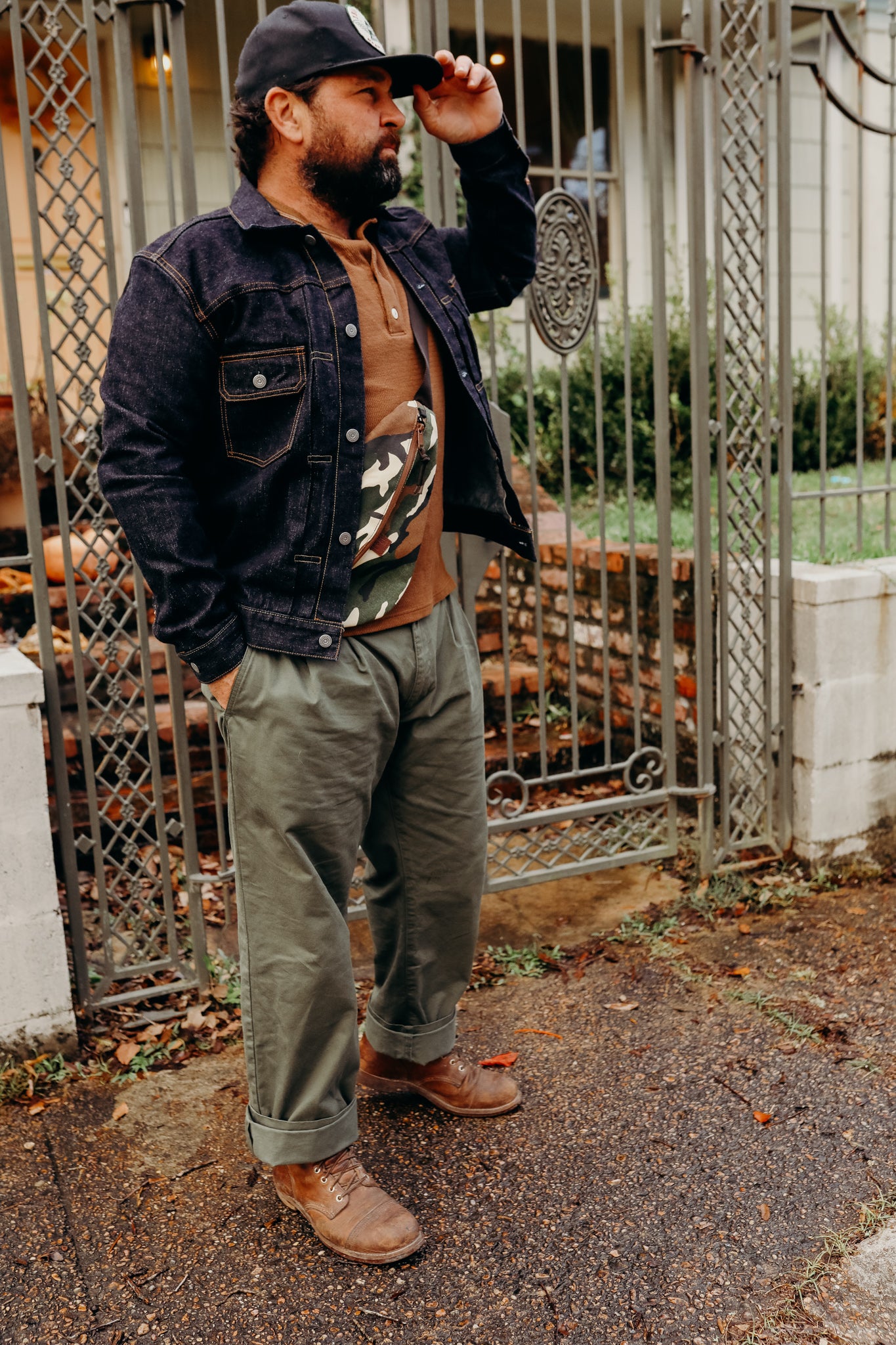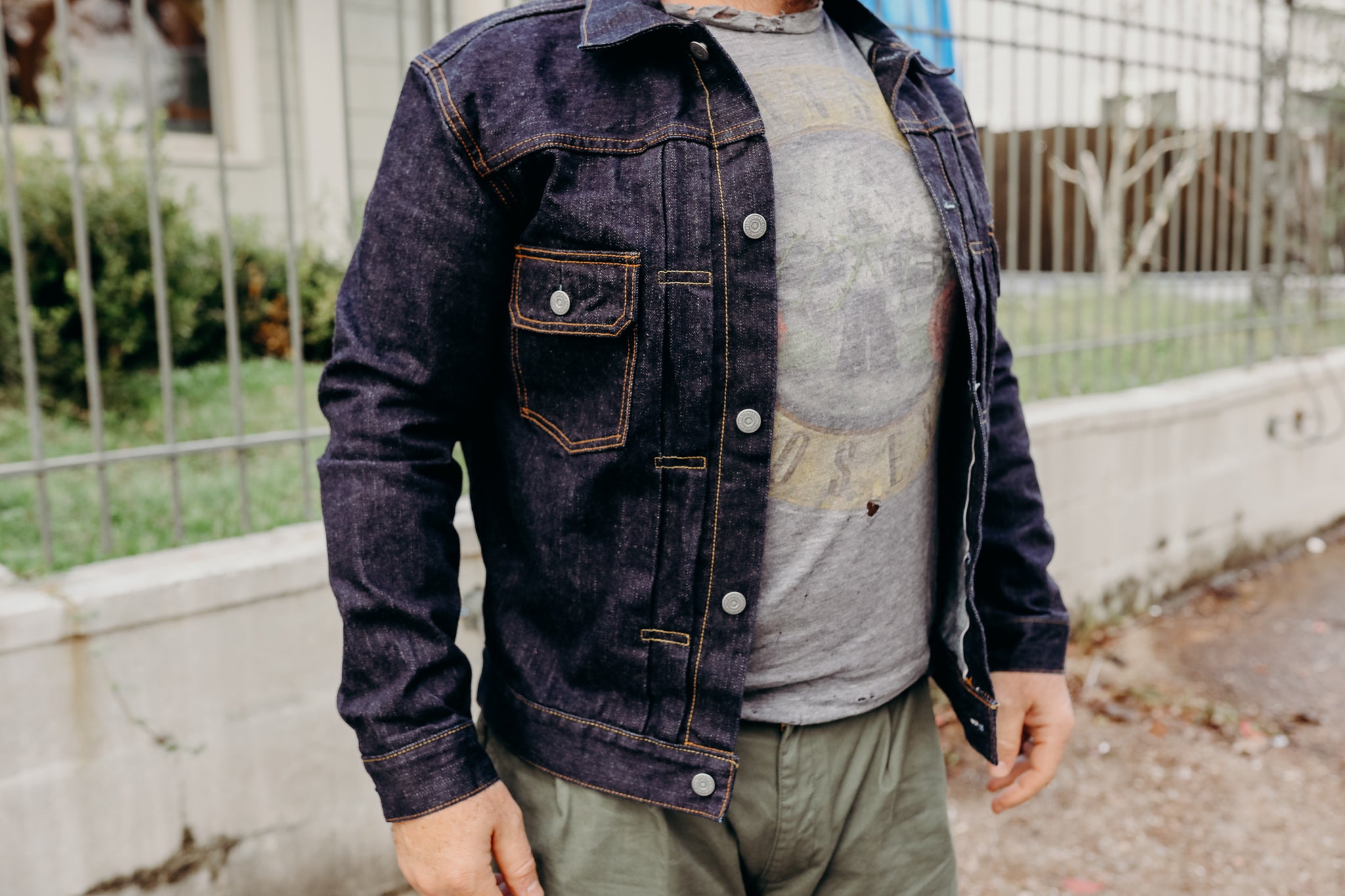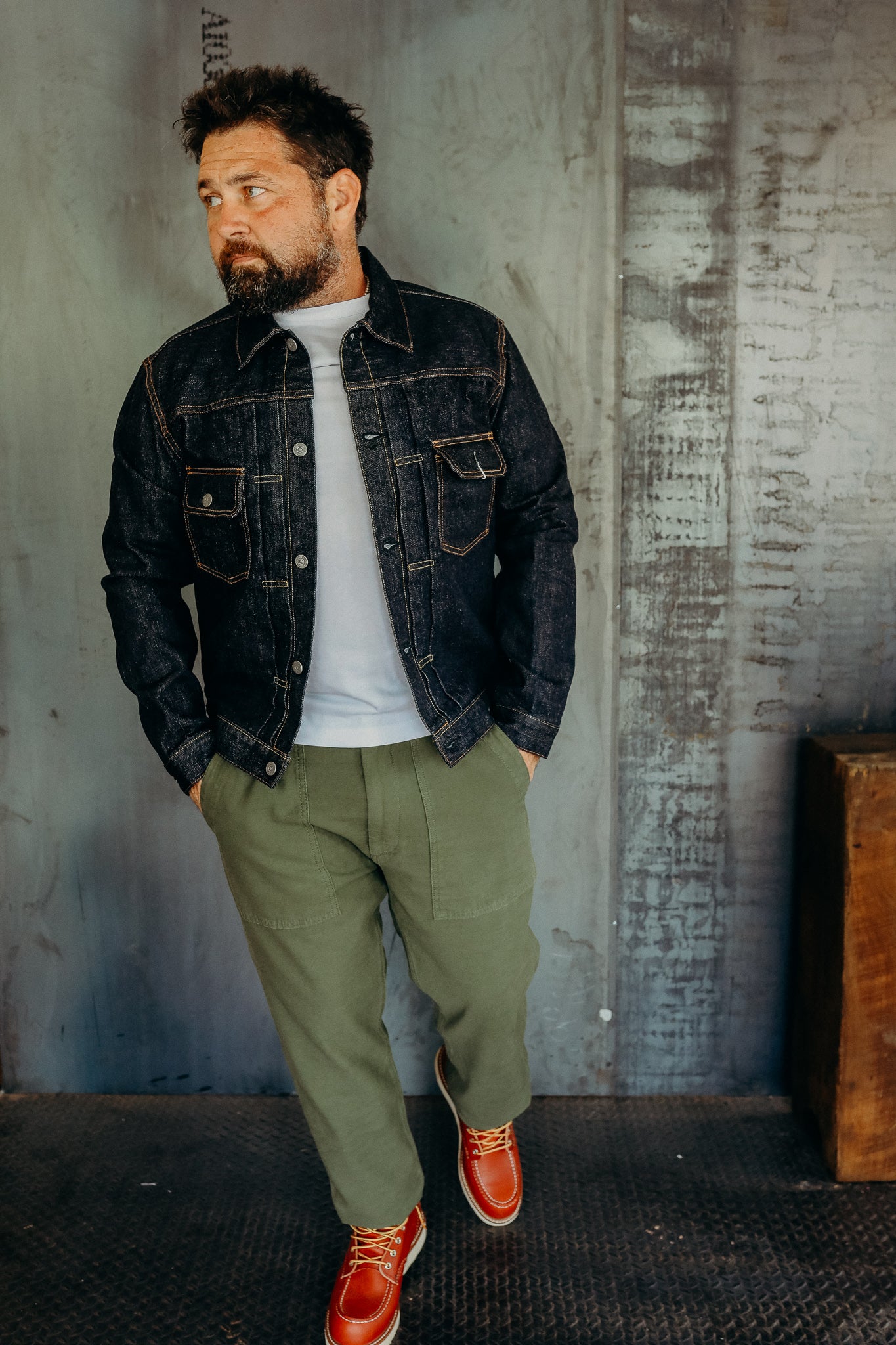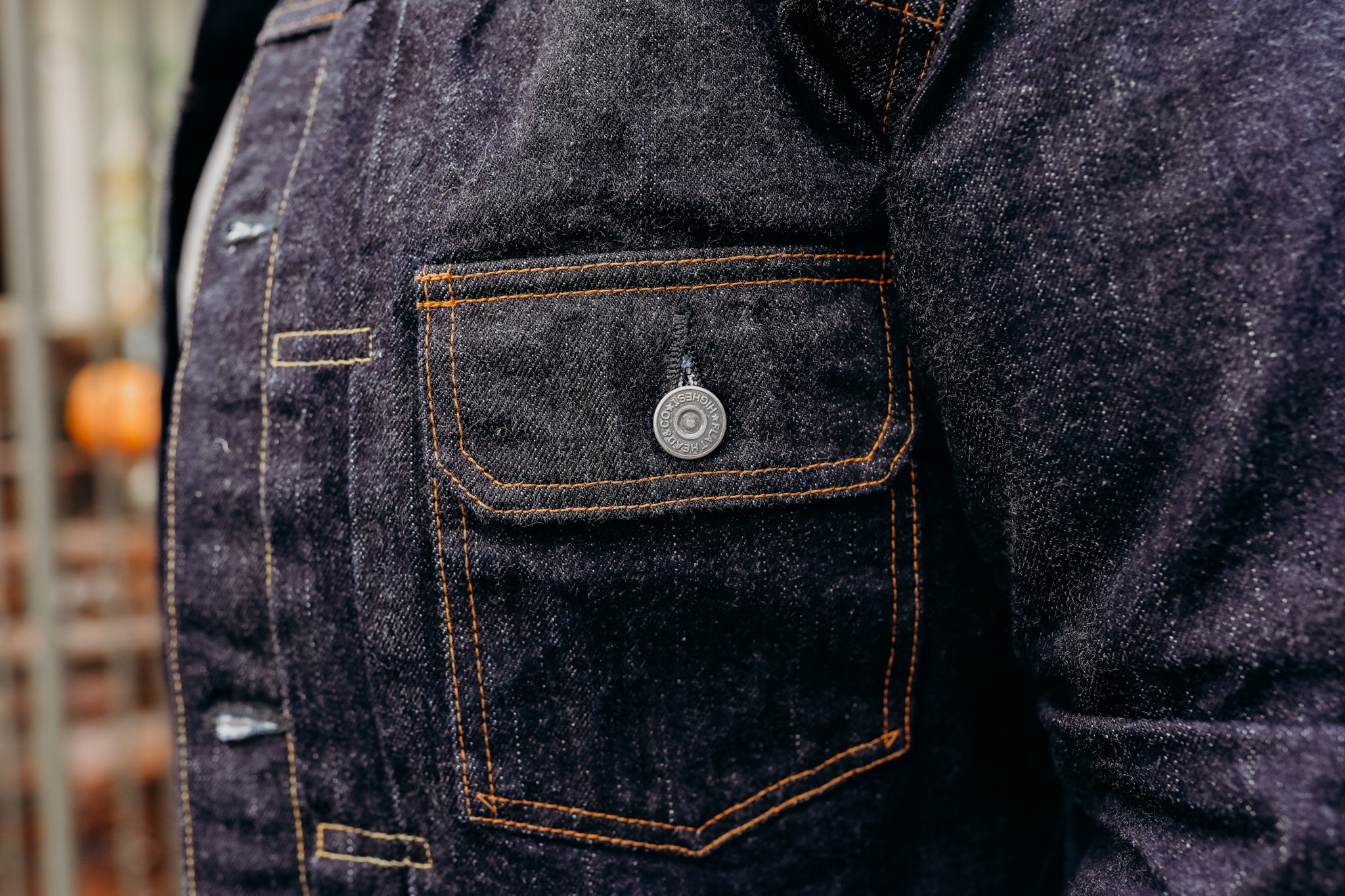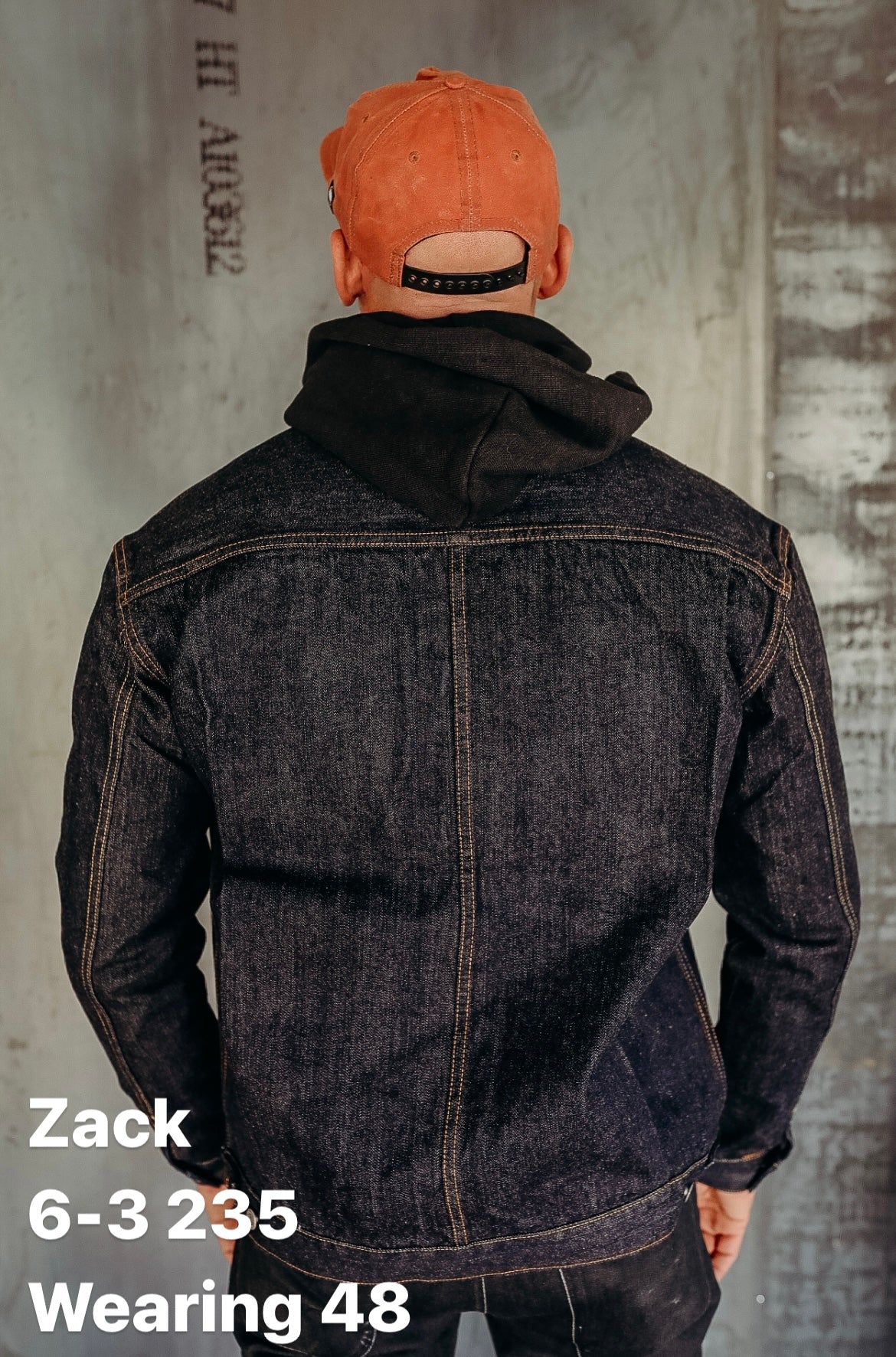 The Flat Head Type II Denim Jacket FN-OJ-D002
Design based on 1950s denim jacket
A model created with a flat head original fabric based on the details of a denim jacket that is said to have appeared since the early 1950s. You can enjoy not only the vintage-like design but also the unique vertical drop that is the charm of flat head denim.
The flathead original denim jacket is finished with ingenuity such as reinforced details that were not available at that time so that you can wear it for a longer time.
・ 14.5oz denim (old-fashioned shuttle loom)
・ Iron buttons
・ Original copper rivets
・ Leather patch (deer leather)
・ Main part winding stitch
・ One wash
・ Color: Blue

14.5oz denim fabric
14.5oz denim fabric woven on an old shuttle loom. It is characterized by a clear and strong vertical drop due to aging due to wearing.
You can fully enjoy the discoloration of the original denim fabric, which was created by studying the dyeing of threads.
Old-fashioned shuttle loom
On the back of the placket, the ears (edges) of the fabric, which can be said to be proof of weaving with a shuttle loom, are used.
Pleats
There are pleats on the back, which gives you plenty of space on your shoulders and back when worn.
Iron button
The original iron buttons are used as a device to enjoy the aging and the atmosphere of the denim jacket.
By applying rust prevention, general brown rust is less likely to appear, and the glossiness and blackness will increase.
Original copper rivets and bar tack
Both sleeves are reinforced with original copper rivets and bar tack.
The bar tack is an original detail, but it is made to be worn for a longer time by firmly compensating for the parts that are easily loaded.
Buttonhole
The buttonhole is finished by a manufacturing method called the rear scalpel.
The area around the hole is cut after overlocking, leaving a tuft of thread in the center of the overlock.
When attaching or detaching the button, this remaining tuft acts as a cushioning material between the hard button and the overlock thread and prevents the overhang thread from wearing.
Waistband
Adjuster belts are attached to both sides of the hem.
It's still seen today, but it's a characteristic detail from the 1950s.
Leather patch (deer leather)
Like jeans, a deer leather patch is used for the patch with the brand logo.
You can also enjoy the secular change unique to deer leather.
Stitchwork around the pocket
The stitching on the bottom and inside of the chest pocket has the stitchwork found on vintage denim jackets.
It is finished in discerning stitching that incorporates a vintage feeling to the finest details.
Domestic | USPS Priority Mail
FREE for orders over $200 / $11.99 Flat Rate for orders under $200
International |  International
$40 Flat Rate to Canada & Mexico /